As some of my fellow readers know and a guitar aficionado, I been playing for a time now and although I don't play very well I appreciate when my setup screams as exactly as I want. That's exactly what I found on a Randall Diavlo RD45H coupled with my Gibson Explorer a couple of years ago.
Sadly, I had to move from a house to an apartment that cannot handle that beast. So I looked up which are alternatives that would allow me to have a huge variety of sounds while using headphones and being cheap.
The gadgets
I narrowed my search to 2 gadgets: POD HD500X and the Eleven Rack. Being that said I looked up reviews, hear few clips on YouTube and looked up how active the scene of making new presets, the choice was easy once I took all of that. Also got a Beyerdynamic DT 990 Pro 250 ohm for it.
The Axe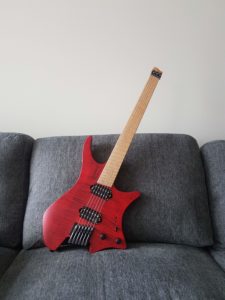 The hardest part was to pick the right axe, moving away from an Explorer paired with an 81/85 EMG pickups is not easy, still, I have it but is hard to travel with. For this, the requirement was easier than with the interface: something portable and amazing.
Got a Strandberg Boden 6 with Suhr passive pickups that sounds better than how it looks, is super lightweight and it comes with the EndurNeck, which basically is kinda weird as it is not flat but round and the shape changes thru the neck. Also, headless guitars are gorgeous.
Result
Now that I have everything setup I must say that I miss the tubes. The interface is great, does all I expected it to do but doesn't sound as right as I wish but allows me to be more flexible on what to play which is also great!
About the guitar, I cannot describe how well it plays. The electronics are very quiet, no noise, no fret buzz, can be played on all the positions while being comfortable at the same time, it includes a gig bag which is very convenient as you can use it as a backpack, which I hope that is able to go in a plane cabin.